the four or so inches of snow that fell on auburn last night had us huddled around the telly, waiting (kansas seriously hoping) to find out if school would be in session today. it turned out that he trudged to the bus stop in boots, mittens, scarf, and hat - but he does have a preplanned four day weekend starting tomorrow :). it reminded me of so many michigan winter mornings, my sis and i huddled by the radio listening to the long monotonous list of school closings due to an overnight snowstorm...as soon as we heard "all livonia public schools" we would shriek with joy and race to cram down something for breakfast while struggling into warm socks, coats, snowpants, gloves, hats, boots, and scarves. then out the door to neighbor friends yards for snow angels, snowball fights, and hot chocolate, or to the neighborhood park for sledding and more snowball fights. if we were lucky, we could get someone's mom or our campus life leader to drive us out to kensington state park for tobogganing down the big hills, ice skating on the lake, and more hot chocolate at the lodge. red cheeked and breathless, laughing and yelling, white snow weighing down branches of evergreen trees, shovels by the side door for clearing our wide sloping driveway - a job we never complained about - sleds and snow forts and the cold silver blades of skates...these are my childhood winter memories.
it doesn't snow like that in kansas, and michigan doesn't even get the amounts it used to...and with the rise of kids on computers, in front of playstations, vcr's, and cable t.v.'s they're just not out playing in it they way we used to, my dad reports. but my recollections are fine ones that always make me smile, and with them I feel the warmth in my stomach not unlike a cup of hot chocolate complete with floating marshmallows in my cold hands after hours of romping in the snow.
***********************************************************************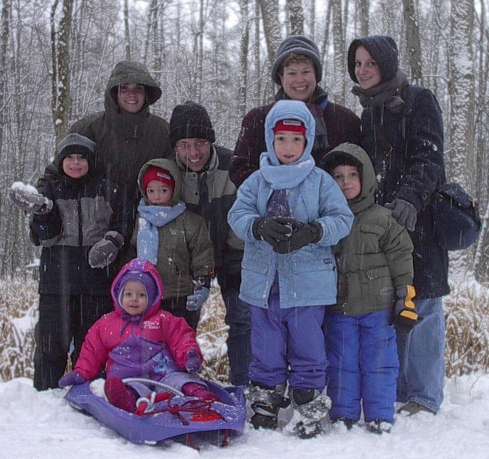 ***********************************************************************
a day at kensington a couple of weeks ago - my sis gina, brother in law mark, stepmom janet, me, kansas, caleb, joshua, jesse, and lucy.