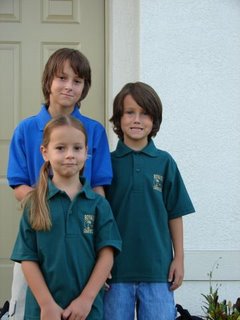 two mornings ago i woke up to an alarm (actually, the first djembe beats of Enter the Worship Circle) for the first time in a long time, flipped on the lamp next to my bed, opened my Bible and bleary eyed read these words - "Aliens will shepherd your flocks". not an encouragement right off as this was the first day my kids were going to don school logo embroidered polo shirts, grab backpacks and lunchboxes, and head into their first year at Royal Palm Charter School and Oakwood Academy, respectively. A year ago I posted
this
, and it amazes me how much can happen and change in a year. in any case, i went back later in the day and read through Isaiah 61 in its entirety, and found that though aliens shepherding your flocks sounds as the outset like something you want to avoid at all costs, the whole chapter is describing the Year of the Lord's Favor - good things, positive developments. so i was relieved and encouraged after all.
when i picked up the kids after a day of doing very little and enjoying the silence (more fun than you can imagine unless you've been a stay at home, sometimes homeschooling mom for 11 or so years), they could not wait to tell me all about their days, their teachers, the kids in their classes..they loved it. lucy's wonderful Christian teacher told us that in her 32 years of teaching, this would be her first lucy :). i smiled ear to ear all the way home thinking of how wonderful it was that they were in the hands of capable instructors who actually enjoyed doing things like making charts and sticking to them, and organizing and implementing lesson plans, et cetera. now if we ever find a need to go back to homeschooling, i will do it if it's the best thing for my kids, but i gotta say - it was quite a struggle for me when i was doing it, and i'm just so glad that for this year at least, God has given us a more workable option. With Chad going to work and the kids going to school, we enjoy each other's company more when we do have time to spend together, as i suspected would happen.
here's to a fantastic first, third, and sixth grade year for the barker kiddos.